Caretaker role x2. For further information contact Paul.Matthews-Jones@yubodedern.cymru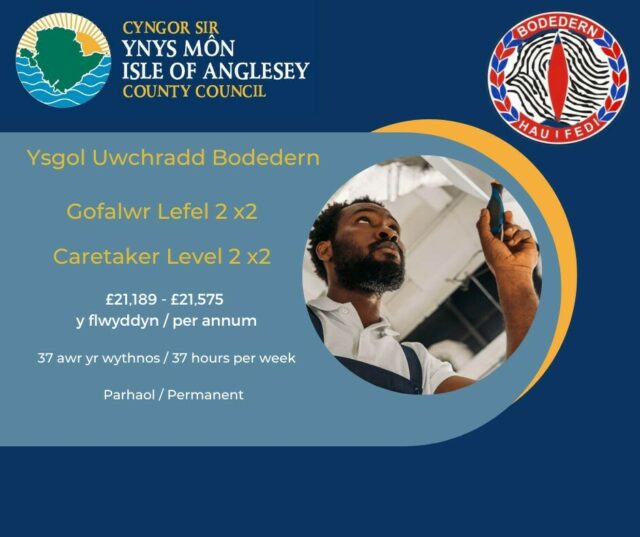 Year 6 open evening 2023!!!!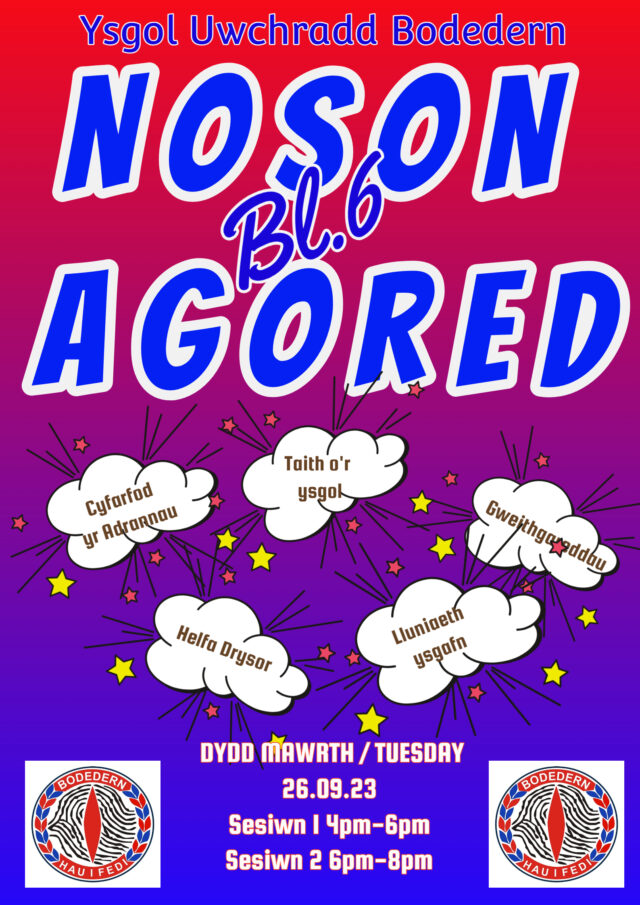 Welcome back Yr 12! A fun filled day of activities was had at Conway Centre to start the new school year!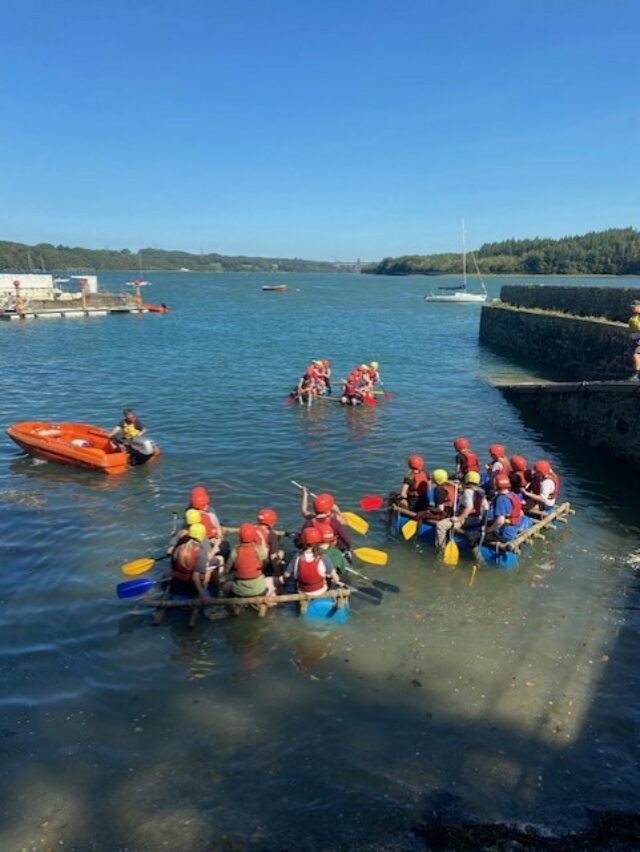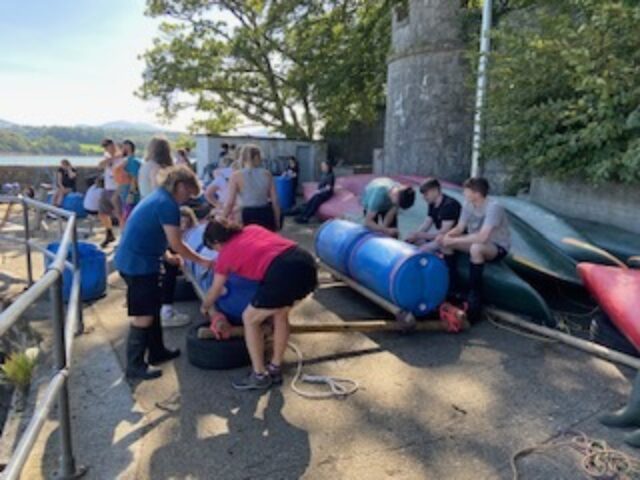 Announcing a Link!
Over the past year Ysgol Uwchradd Bodedern has been in contact with St David's School, Greystones, Co Wicklow. Mrs Saunderson and Mr Magee have travelled over to meet with their staff and have a guided tour of the school. The two schools have agreed to work in partnership to create exciting extra curricular activities for our pupils. We are looking forward to building this relationship over the next academic year!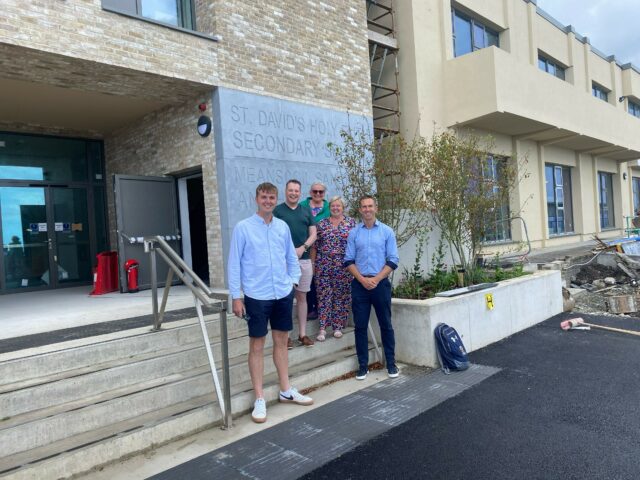 Welcome back to another exciting year at Ysgol Uwchradd Bodedern. We expect every pupil to wear the full school uniform every day. Full information regarding the expected school uniform and support on our school website. You can contact your child's head of year with any questions. A warm welcome to all our new pupils, looking forward to seeing everybody tomorrow.
Tomorrow morning, year 7 and 8 please enter the school through the main reception, year 9, 10 and Sixth form through the entrance by the Welsh department and year 11 through Bro Alaw.
Congratulations to all of our pupils who received their GCSE results today. We wish all our year 11 pupils the very best with their next chapter whether that be at Ysgol Uwchradd Bodedern, college or the world of work.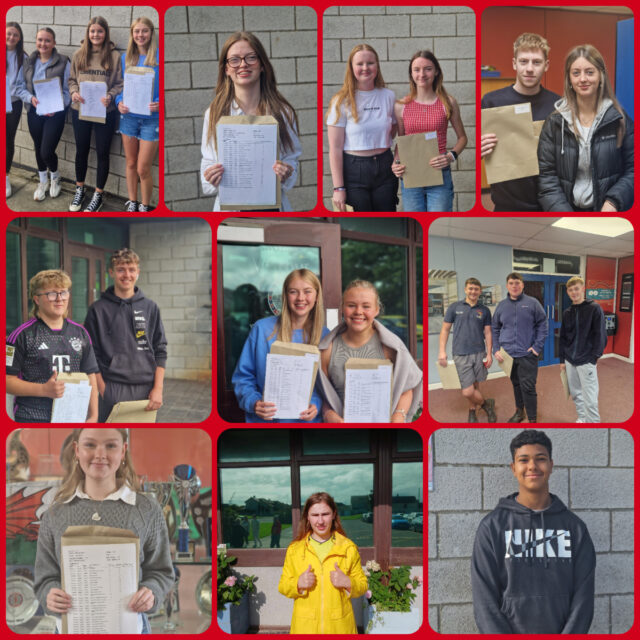 School reopens for pupils Tuesday 05.09.2023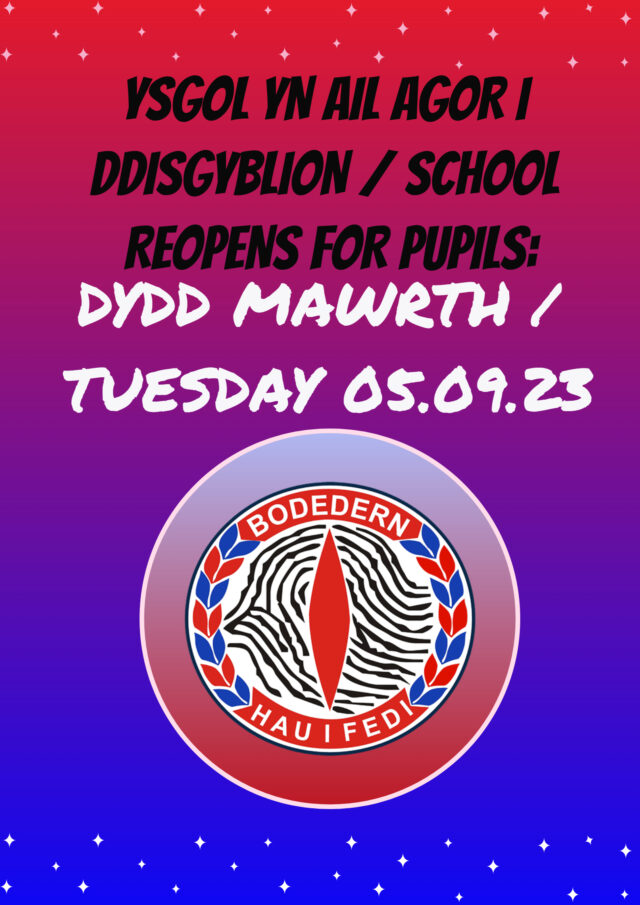 Congratulations to Ysgol Uwchradd Bodedern pupils on today's fantastic A Level results, we are all very proud of their achievements. We wish all our students every success in the future and look forward to tracking their achievement through University, further study and their future careers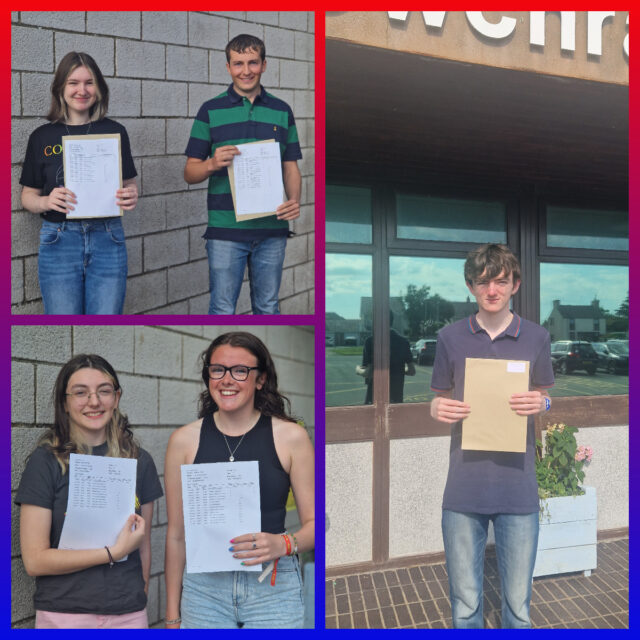 Ysgol Uwchradd Bodedern is supporting St David's Hospice Charity!! Following distributing leaflets in Bodedern and Bryngwran this week, a quick note to remind you that pupils from 9D and 9E will be collecting donations on the following days (leave a bag/box on the doorstep if not at home):
Bryngwran, Tuesday, 4 July 10-12pm
Bodedern, Wednesday, 5 July 10-12pm
What can you donate?
Clothing / shoes / bags / games and toys / books and DVDs / Crockery and glasses / any tombola item
Thank you for your support!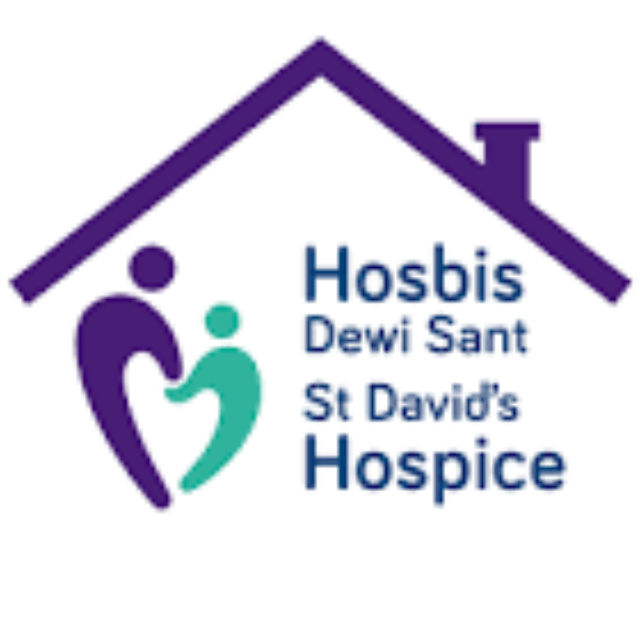 Diwrnod HMS 26.06.23 Ysgol ar gau i ddisgyblion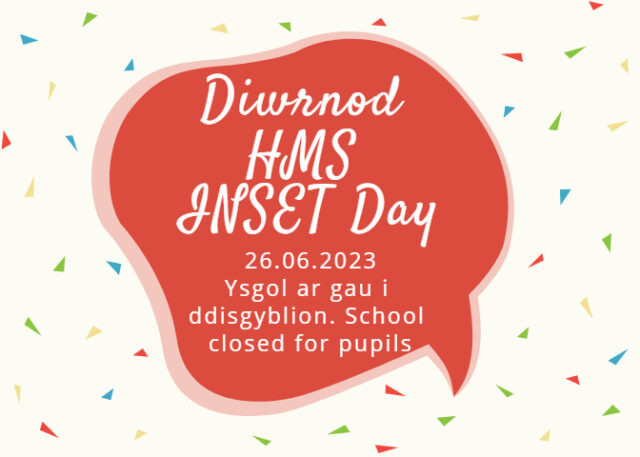 Join the Ysgol Uwchradd Bodedern family!!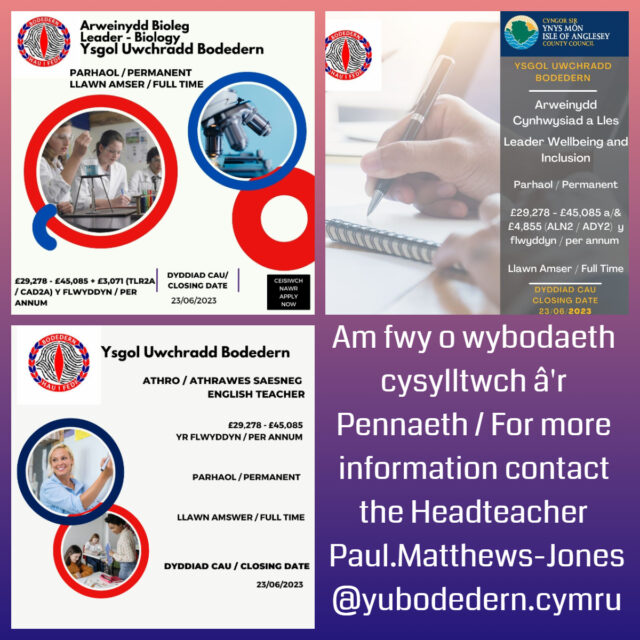 Thank you so much to Mared Williams for leading our GCSE music students in a composing workshop.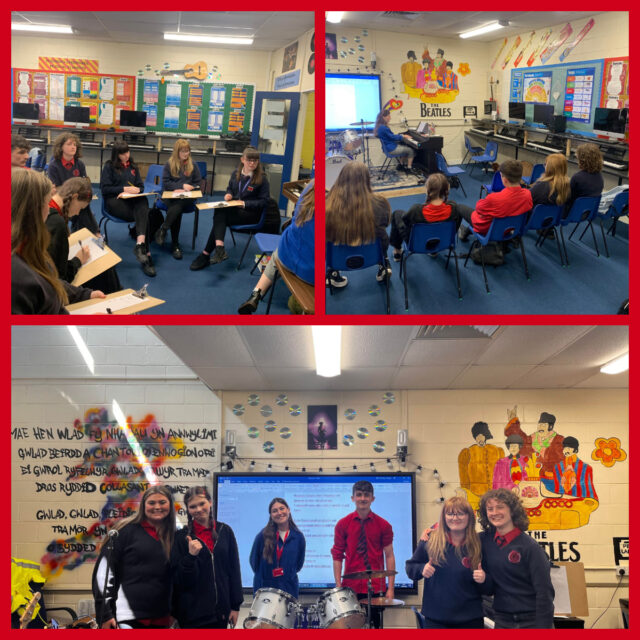 Dyddiadau pwysig - Important dates!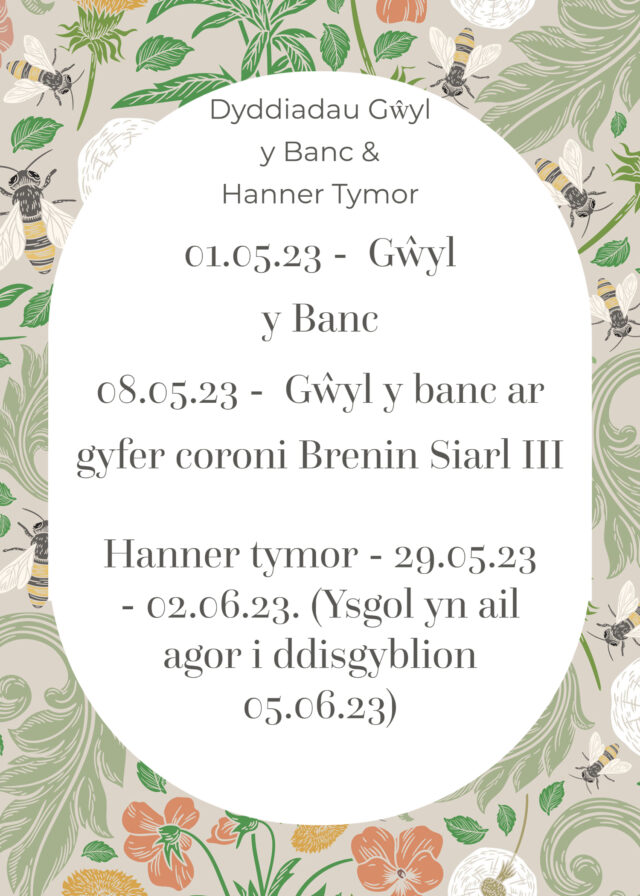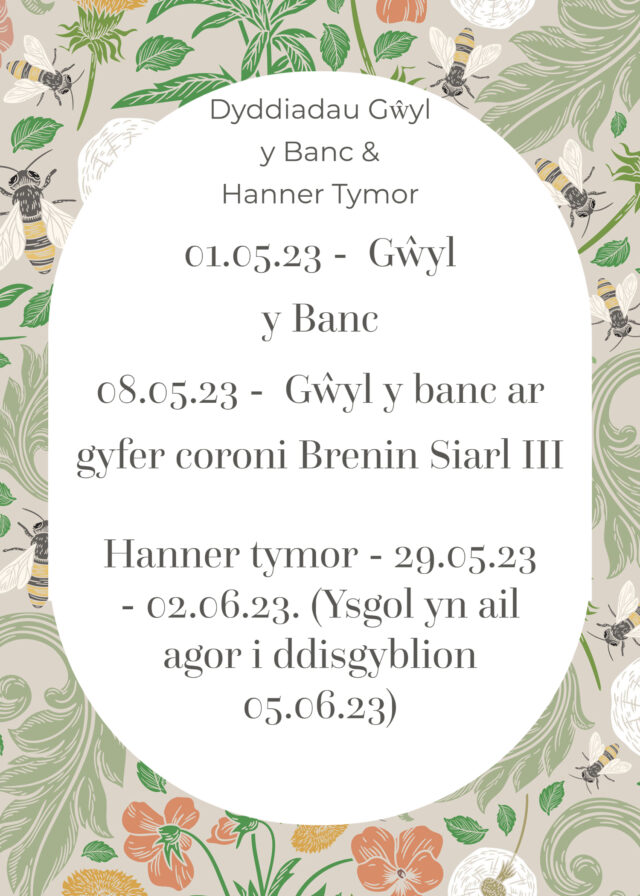 Order your tickets by contacting us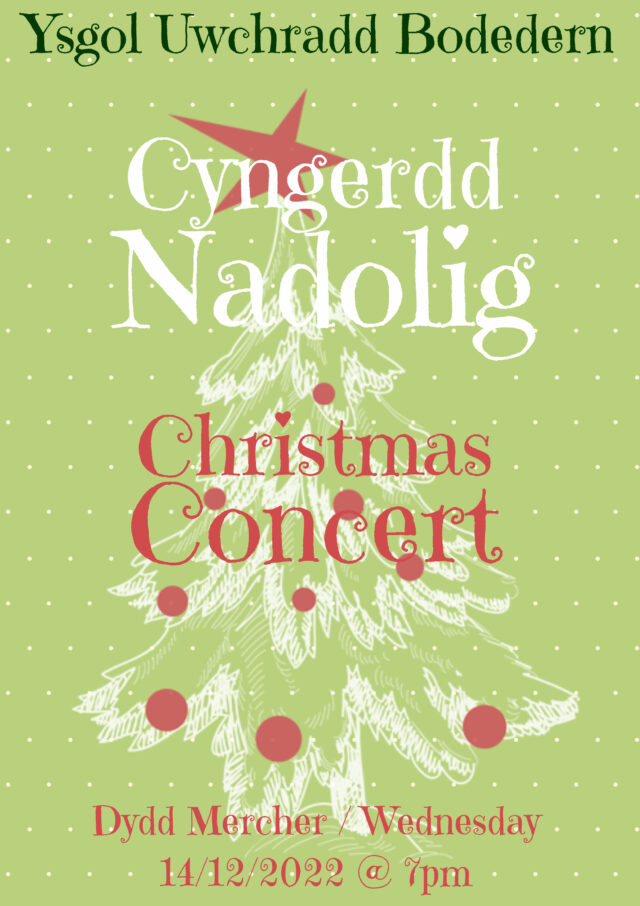 The BSL Club will meet every Monday from 3pm-4pm. A great opportunity to learn British Sign Language.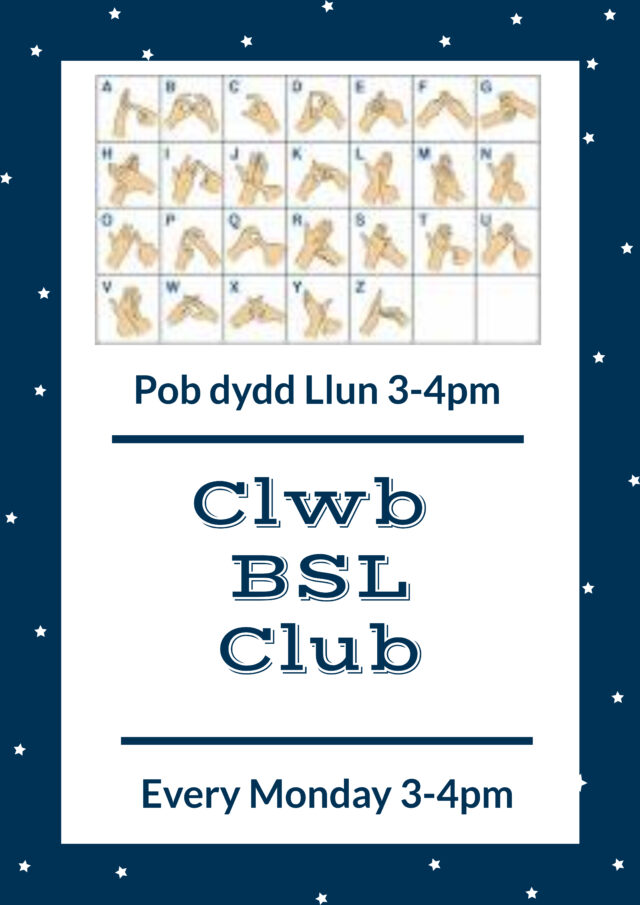 Remember the Open Evening on 27.09.22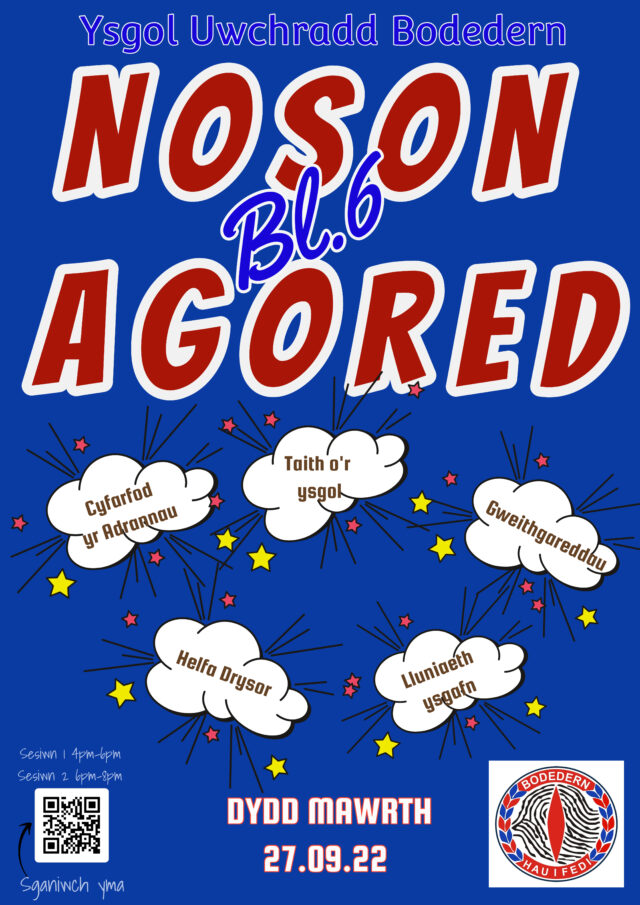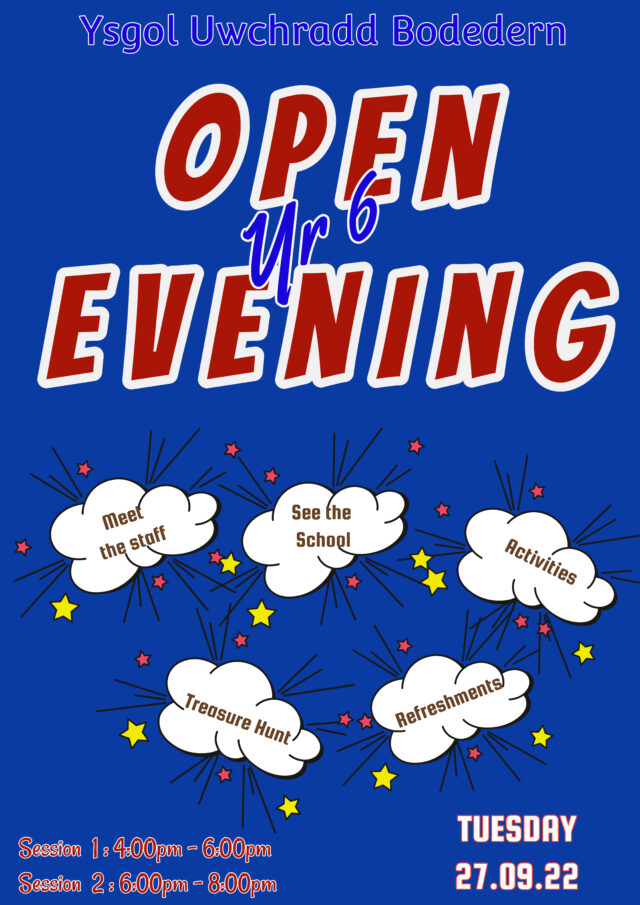 The school will re-open for all pupils on Monday 05/09/22 - we look forward to welcoming everyone back.
18th of March is National Children Exploitation Day. Today gives us the opportunity to draw attention to the many aspects of Child Exploitation and encourages everyone to think, spot and speak out against abuse.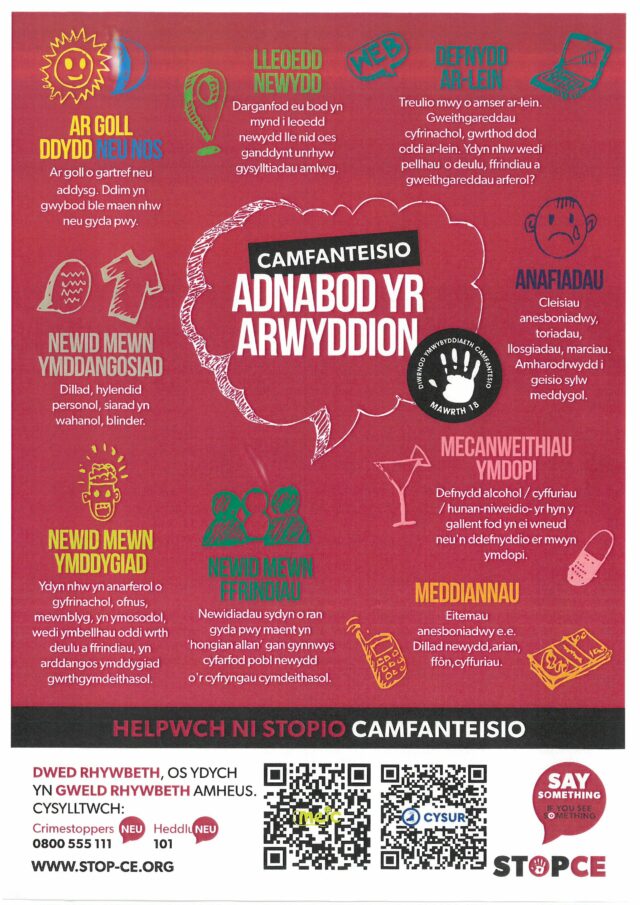 Everyone at Ysgol Uwchradd Bodedern would like to extend their heartfelt condolences to the family and friends of Elgan Wyn Jones. Elgan was a hugely popular pupil amongst staff and school children. His passing is a tremendous loss to our school community.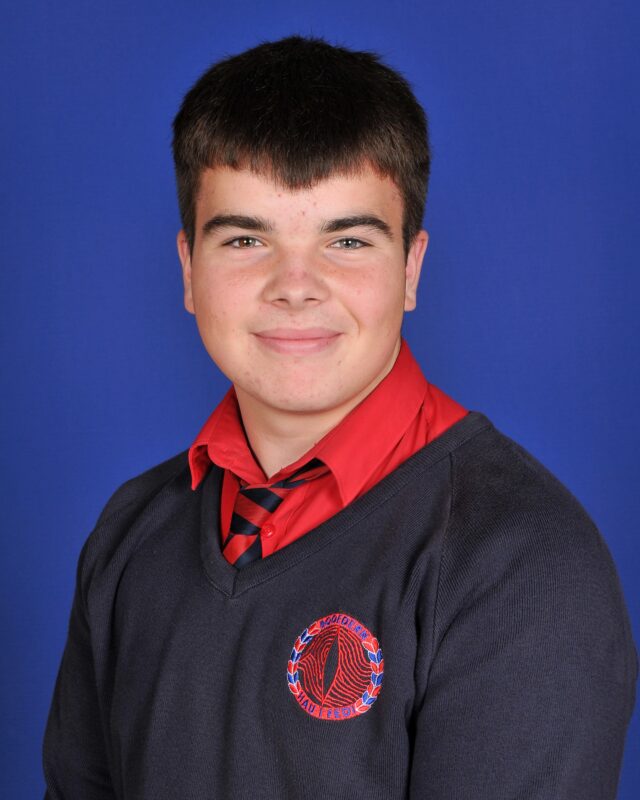 THURSDAY 03/03/22: Wear Red for the Day / Year 10 BAC Fair
Remember your loose change!
Proceeds to the Teenage Cancer Trust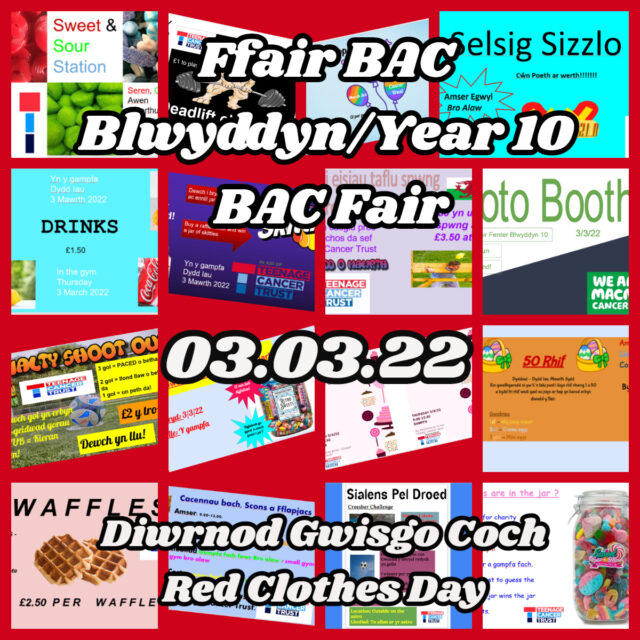 Huge congratulations to the girls on their achievement!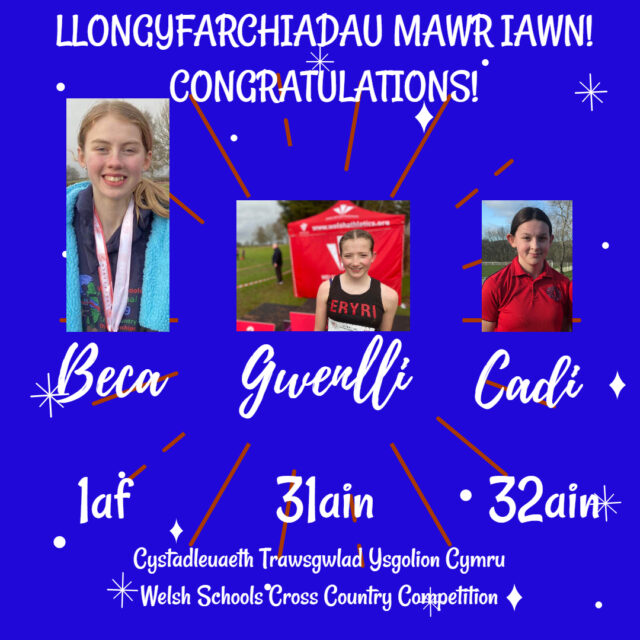 Congratulations boys!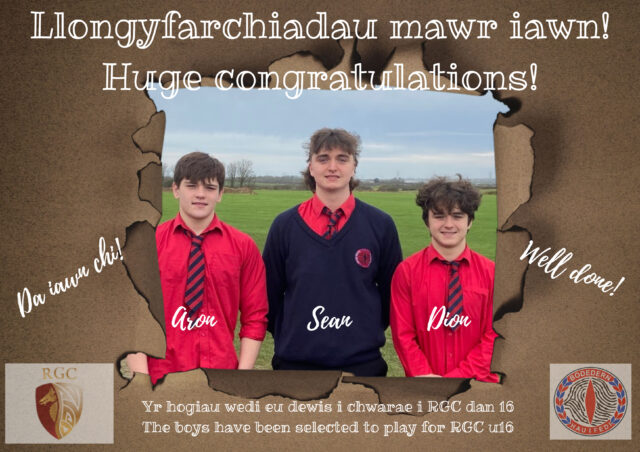 Er mwyn rhoi amser i ysgolion asesu eu capasiti staffio a rhoi'r mesurau angenrheidiol ar waith i gefnogi dychweliad dysgwyr, mae Llywodraeth Cymru wedi penderfynu rhoi dau ddiwrnod cynllunio i bob ysgol ar ddechrau'r tymor nesaf (6 a 7 Ionawr 2022). Ni fydd ysgolion yn darparu unrhyw ddysgu ar-lein/cyfunol yn ystod y dyddiau hyn. Mae disgwyl i bob dysgwr ym Môn ddychwelyd i'r ysgol ddydd Llun 10 Ionawr. Bydd taliadau electronig yn parhau i'r teuluoedd hynny sydd â hawl i ddarpariaeth prydau ysgol am ddim i'w plant.
Yn dibynnu ar sefyllfa Covid, mae'n bosibl y gwelwn newidiadau yn y ffordd y mae ysgolion yn gweithredu pan fyddant yn dychwelyd ym mis Ionawr. Byddwn yn parhau i asesu'r sefyllfa mewn cydweithrediad â Llywodraeth Cymru, Iechyd Cyhoeddus Cymru a phenaethiaid. Bydd ysgolion yn rhannu unrhyw ddiweddariadau perthnasol gyda chi fel y bo'n briodol.
Mae hon yn sefyllfa sy'n esblygu'n gyflym ac rydym yn eich annog i gymryd gofal ychwanegol i gadw eich hunain a'r rhai o'ch cwmpas mor ddiogel â phosibl.
Hoffwn ddiolch am eich amynedd ac eich cydweithrediad parhaus. Dymuniadau gorau i chi a'ch teulu dros y Nadolig.
Cofion,
Gwasanaeth Dysgu Ynys Môn
In order to provide schools with time to assess staffing capacity and put the necessary measures in place to support the return of learners, the Welsh Government has decided to provide all schools with two planning days at the beginning of next term (6 and 7 January 2022). Schools will not be providing any online/blended learning during these days. All learners on Anglesey are expected to return to school on Monday 10 January. Electronic payments will continue for those families are entitled to free school meal provision for their children.
Depending on the Covid situation, it is possible that we will see changes in how schools operate when they return in January. We will continue to assess the situation in collaboration with Welsh Government, Public Health Wales and headteachers. Schools will share any relevant updates with you as appropriate.
This is a fast evolving situation and we urge you to take extra care to keep yourselves and those around you as safe as possible.
We would like to thank you for your patience and continued support. Best wishes to you and your family over Christmas.
Regards,
Anglesey Learning Service
Once again this year we will be supporting the Reverse Advent Calendar campaign.

The intention is to collect as many items as we can which will then be presented to the Food Bank at the end of the month. We accept the following:
Longlife Milk, Soup, Tins Custard/Rice Pudding, Tinned vegetables, Jam/Marmalade, Tea/Coffee, Chocolate, and Toiletries.
Thank you for your support.
#reverseadventcalendar